Our Easy, Reliable Service
Stuck simplifies the process of getting roadside assistance. In times of need, simply call 855-557-8825 or dial 855-55-STUCK, describe your situation, and leave the rest to us. We will promptly dispatch one of our highly trained and thoroughly background-checked technicians to your location. Our technicians arrive in well-identified Stuck trucks, fully equipped to handle a wide array of roadside issues and get you back on the road in no time.
Experience an Uber-like service with Stuck. Our user-friendly app allows you to track your technician's progress in real-time, ensuring you are constantly in the loop and know exactly when help will arrive. Additionally, you will receive text notifications updating you on the technician's status, from dispatch to arrival. This level of transparent communication is our commitment to ensuring that you are never left in the dark during your time of nee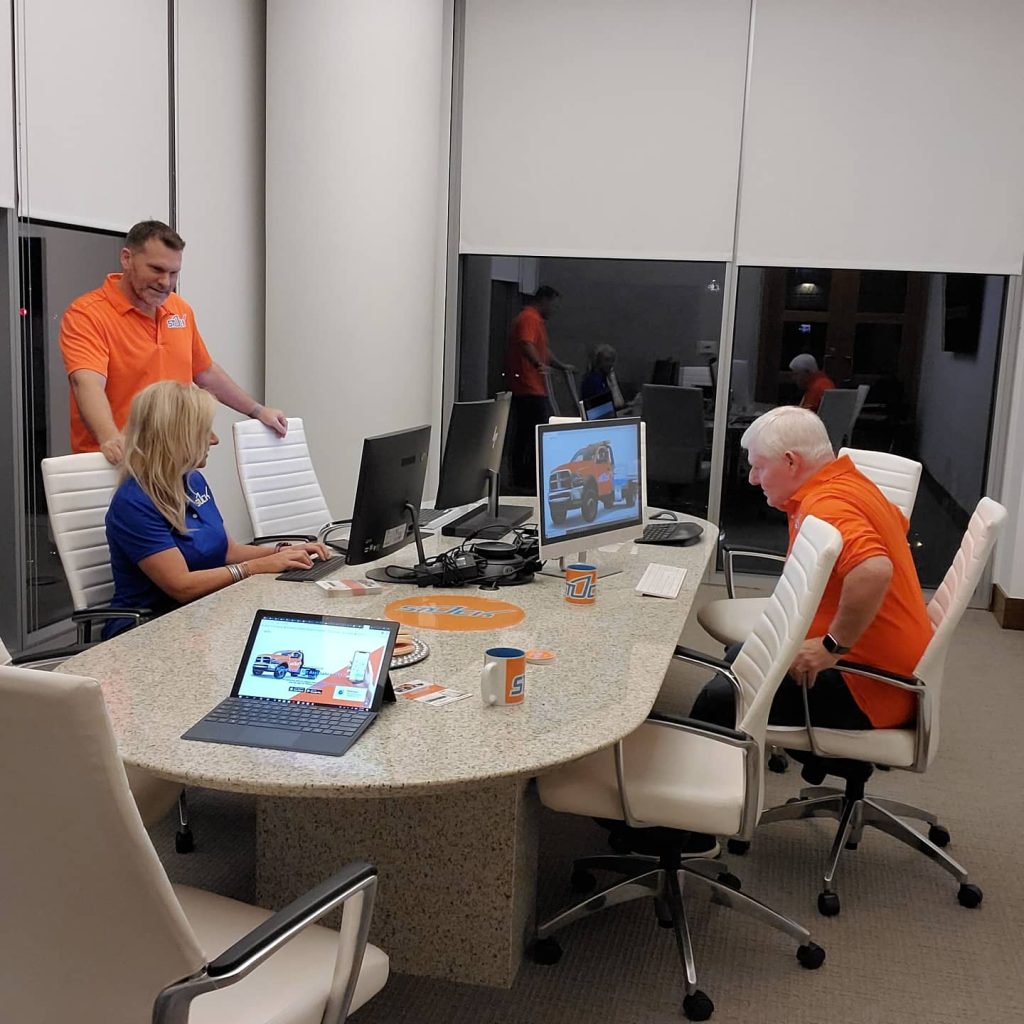 The Stuck Difference
What truly sets Stuck apart in the crowded field of roadside assistance?
No Membership Fees: Pay only for the services you need, exactly when you need them.
Transparent Coverage: No exaggerated coverage limits or lists of exclusions. If our technician can reach your vehicle, we can assist.
Nationwide Network: With over 10,000 technicians across the USA, help is always nearby. Our average response time is an impressive 30 minutes or less.
Licensed and Insured Technicians: All Stuck roadside assistants are licensed, insured, background checked, and adhere to the highest industry standards.
Comprehensive Roadside Services
Stuck offers a wide array of services to cover any roadside situation:
Flat tire change: $65
Emergency fuel delivery: $55
Jump starts: $55
Vehicle lockout service: $65
Winching and towing
Minor roadside repairs
Need heavy-duty towing for vehicles up to 80,000 lbs? We've got you covered. Simply request it when you call.
Stuck Cares: Our Commitment to You and the Environment
At Stuck, we are committed to providing exceptional service with a human touch. Our technicians are not just experts in their field; they are compassionate individuals dedicated to your safety and peace of mind.
We are also committed to minimizing our environmental footprint:
Our trucks run on clean-burning propane.
Our digital dispatch system optimizes routes to reduce fuel consumption.
We recycle parts and materials whenever possible.
Trusted Nationwide and Industry Endorsed
Over 500,000 Satisfied Customers: Since our inception in 2020, we have assisted over half a million motorists, earning an average customer rating of 4.8 out of 5 stars.
Endorsed by Industry Leaders: We are proud to be trusted partners with leaders in the roadside assistance industry, including Agero, Urgently, Allied Dispatch, Gerber National Claim Services, and U-haul. These partnerships are a testament to our reliability, expertise, and the high standards of service we provide.
A+ Rating from the Better Business Bureau: A testament to our unwavering commitment to excellence and customer satisfaction.
Get in Touch with Stuck Today
Don't wait for an emergency. Ensure you're covered today by contacting Stuck. Call 855-557-8825 or dial 855-55-STUCK, or visit our website at www.stuck.solutions to learn more about our services.
Join the hundreds of thousands who trust Stuck for affordable, reliable, and hassle-free roadside assistance nationwide. Contact us today for total peace of mind behind the wheel!
---
Stuck: We're Here for You, Wherever the Road Takes You.