In need of a tow truck that is affordable in miami? look no FURTHER
STUCK provides effective and efficient various tow trucks, with real time updates.
Flat beds, wheel lifts, winching services available. 
REAL-TIME UPDATES
GPS TRACKING OF YOUR ASSIGNED DRIVER
Affordable towing services in miami, fl
CALL 855-557-8825
OR FOR FASTER SERVICE, HIT THE "REQUEST SERVICE NOW" BUTTON BELOW
WIDe range of tow trucks ready to assist
Our tow truck service in Miami is here to assist you with your towing needs. Our modern fleet of tow trucks is ready and well-equipped to handle all types of vehicles, from cars to trucks and motorcycles. Our experienced drivers are trained to handle all kinds of towing situations, from accidents to breakdowns and towing of impounded vehicles.

At our company, we strive to provide fast, efficient and affordable towing services to our clients. Whether you need to tow your car to a repair shop or your truck to a designated location, our team is here to help. Our tow truck service is available 24/7, so whenever you need us, we'll be there in no time.

In addition to our towing services, we also offer roadside assistance for those in need of tire changes, jump starts, fuel delivery, and more. Choose our trusted tow truck service in Miami for all your towing needs.
You can book service with us over the phone, or the request service button on our website
get connected to our network of service vehicles and personnel in a process that simplifies service order, tracking and payment.
On the phone, our personnel will ask a few questions about the nature of your situation and promptly connect you to our wide network of professionals and equipment. If you use the request button, you will be connected to a system that provides updates, and tracking of a driver on a map that allows you to see where he is, and text or call the driver directly.
Expert Arrives on the Scene
We will promptly dispatch an expert who will arrive quickly to analyse the situation, solve your problems, and make sure you are back on track so that you can reach your destination without further hassles.
STAY IN CONTROL OF YOUR ROADSIDE EXPERIENCE NO MATTER WHAT.
Your experience with STUCK will provide you with a seamless process with driver ETA's sent to you, live tracking of your roadside technician, and the name and phone number of the technician.  This gives you an "UBER LIKE" experience to keep your mind at ease during a stressful situation that you may be in to get you back on the road.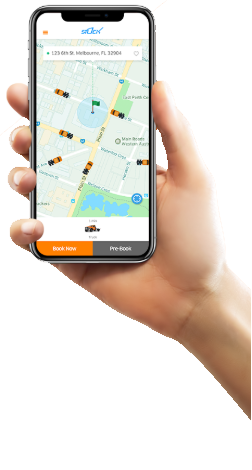 Miami has a variety of tow truck services, catering to different needs depending on the type of vehicle and situation. There are five primary types of tow truck services in Miami.

1. Flatbed tow trucks: These have a long flatbed that can easily accommodate heavy vehicles like trucks, buses, and large vans.

2. Wheel lift tow trucks: These use a metal yoke to lift and tow the vehicle by its wheels. They are mostly used for towing small to mid-size cars.

3. Hook and chain tow trucks: These are the most traditional form of tow truck and use a hook and chain to secure the vehicle and tow it along. They are useful for junk car removal.

4. Integrated tow trucks: These are the most advanced type of tow truck and have the ability to tow large vehicles, heavy-duty trucks, and luxury cars without causing any damage.

5. Motorcycle towing: These tucks are specifically designed to safely tow motorbikes from one place to another.

In summary, Miami has a range of towing services to cater to any circumstance where a vehicle needs towing, and it is important to choose one that is suitable for the type of vehicle that needs assistance.
We take pride in our proven track record of providing fast and reliable tow truck services to Miami area motorists. Our team understands the frustration and stress that comes with a vehicle breakdown, and we make it our mission to arrive quickly and efficiently. With years of experience, we have established a reputation for prompt response times, knowledgeable technicians, and top-notch customer service. Our comprehensive fleet of tow trucks is equipped with the latest technology and safety equipment to ensure that your vehicle is transported securely. Whether you need a tow due to an accident or mechanical failure, we are available 24/7 to assist you. We value your time and understand the urgency of your situation, which is why we prioritize arriving quickly, getting you back on the road and ensuring that your towing experience is hassle-free. Let us show you why we have the reputation as Miami's most reliable towing service.
Read some of the testimonials from our clients below:

I had to call for assistance this past February. Being stranded was frustrating but Struct Solution arrived in a timely fashion and not only assisted me, sent a very nice, friendly driver named Mark.

They've always been very professional and very prompt. They have a clean appearance and are courteous to our customers. They represent our business when they pick up our customers and have always done so well. We've never had issues with them.

It was timely, very friendly, and had reasonable pricing. It was as pleasant an experience as you can have with towing.

I've used Stuck Roadside Solutions for a number of years and I've always had a good experience with them. I remain loyal to their service and I recommend them because I know they have a good reputation